About two weeks ago, the K-pop world felt a shock that had fans heartbroken all over the world. It's true, 2NE1 has disbanded. There's so much that these four beautiful women (although Minzy left prior to the disbandment) have brought to the K-pop industry and into our lives through music, laughter, and much more. Here are some of their greatest moments in their seven years of being active from 2009-2016.
1. Unplugged Version of "Come Back Home" on Yoo Hee Yeol's Sketchbook
First on the list is when the members of 2NE1 performed an unplugged version of their hit "Come Back Home" in light of the Sewol Ferry accident. The members lent their voices and sang their hearts out while wearing yellow ribbons as consolation and symbols of hope.
2. CL responding do Sandara in the middle of an earthquake
This was such a heartwarming moment between 2NE1 leader CL and Sandara. The amount of courage and bravery it took for CL to find Sandara on a different floor amidst an earthquake demonstrates the strong bond they have with each other and how that their relationships know no limits. You can learn more about it by watching this clip from 2013:
3. 2011 MAMA Stage
It's no secret that 2NE1 has won their fair share of MAMA awards. They actually hold many records and have received a total of four Daesang awards (grand prizes). After winning two of them the year before in 2010, they came back with this performance which included 2011's Song of the Year "I Am the Best"!
4. 2015 MAMA Stage
How could anyone forget this stage? This was the shock of the award show when we saw the other members pop up from below in the middle of what people believed to be CL's solo stage. And now, we realize this was the last time that all four of them would be on stage together as 2NE1. This performance will go down in history.
5. Their obsession with Haru
While at times they seem like kids at heart, you get to see an incredibly sweeter and cuter side of theirs when they play with Epik High member Tablo's daughter, Haru. You can catch a glimpse of this from when Haru attended the YG Family Power Tour on "The Return of Superman."
6. 2NE1 TV
One thing that Blackjacks all over the world miss is 2NE1 TV. The members of 2NE1 also still reminisce about and miss this. Because of 2NE1 TV, we were able to see another side of 2NE1, the side without the heels, hairspray, or perfect outfits. Instead, we got to see their candid moments in their own homes,
their incredible bond,
and the behind-the-scenes footage of how they bring us amazing performances and look flawless.
This "too tired version" of "I Don't Care" will have you rolling on the floor laughing. We have a strong feeling that this is what their practices looked like: when hard work and diligence becomes late night/early morning delirium.
7. YG Family, Family
All of the members have such great relationships with the rest of YG family and are very open about it! We love seeing their Instagram posts with old and new YG artists, special joint stages, and much more. They also do a very good job of taking care of their juniors in the company like wanting to take Team B (now iKON) out to eat, visiting WINNER's dorm, and Park Bom even calling Lee Hi her little sister! Here's an amazing performance of some of the artists greatest hits and all of them on stage as a family:
8. Imitations of Yang Hyun Suk
Speaking of company, we can't forget when they imitate CEO Yang Hyun Suk. This seems to be a YG artist tradition where they imitate their president. Here are some of their impressions, along with other YG artists, over the years:
9. "What's Up, We 2NE1"
Last on the list, we have 2NE1's group greeting. Every idol group has their own unique introduction and 2NE1's is one that is full of swag, charisma, and slight cuteness. It's even a greeting that is often imitated by others for its catchiness. Every time we heard this greeting, we knew that we were about to be blessed with the presence of four incredible women.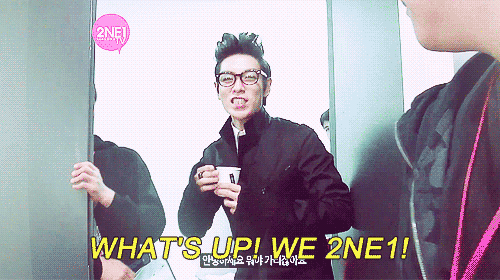 Thank you for everything, 2NE1!